My free novella exists!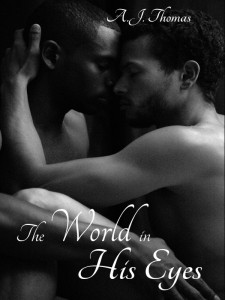 Larry is a flirt and a sweet guy under a bit of swagger. He is tired of one night stands and wants to find a real relationship but he has a hard time staying away from the hook-up sites. Because… sex. Larry feels the sting of being rejected automatically because of his race. But he still has a positive attitude and rolls with the punches. He won't ignore elephants in the room, however; which sometimes leaves people uncomfortable.
"Beautiful eyes" is a snarky, young, driven professional who won't be guilted into making a connection. He isn't even looking for Mr. Right… but he likes Larry's open face and broad shoulders and is charmed despite himself. Will "Eyes" give Larry a chance when his friends (or colleagues, family) seem less than enthusiastic? Can he grow up enough to accept a relationship that requires some work and commitment?
Can Larry set aside his patter and flirtatiousness enough to let "Eyes" see the sensitive guy hiding?